On The Road A'gin...
It all started out with a need. We needed a heat treating furnace. Chrissi being the Left Wing Tree Hugging New-Ager she is, put the request out to the Universe;
"One Medium Sized 220 volt single phase heat treating furnace please"
The Universe comes back with Steve Robbins, once upon a time Variease builder flyer with his dad and now a Cozy Mk-IV builder needed an engine mount and just happened to be in the industrial controls business with his father, their company is Askco Instrument in Houston, Texas. Somehow Steve happened to have exactly what we needed sitting in his warehouse.
Road Trip...
The Mk-IV engine mount Steve needed is very expensive and bulky to ship, the furnace he had weighed over 400 lbs and would have been expensive to ship and we were afraid the carrier would damage it.
The solution was to hit the road. We left at 1:00 AM on Thursday heading South.
In total it is a 919.3 mile drive of 14 hours, 50 minutes give or take.
First stop after a ten hour drive was at Vance & Lynn Atkinson's in Ft Worth. They have about the best Cozy III you will ever see. We were fading rapidly at about 8:00 PM, got an early start on sleep and back on the road again at 6:00 AM. I wanted to do a quick drive through of The Woodlands, an amazingly beautiful planned community Northwest of Houston where my Mom had lived.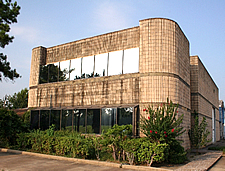 Back on the road down through Houston to the Hobby Airport area to meet up with Steve Robbins at Askco Instrument.
Steve is building his Cozy Mk-IV in the loft of the company warehouse and doing a really good job of it as well. We admired the workmanship of his "tub" and shared building stories and ideas. He's got one of the nicest work areas we have ever seen for a builder.
Steve loaded the heat treating furnace in our minivan and we followed him down to Ellington Field, formerly an Air Force Base. NASA keeps their training and research aircraft there as well.
From the time I first mentioned on the various net groups that we were heading down to Houston, builder Richard Sessions jumped right in and was both helpful and instrumental in getting us contacts and making arrangements for us to connect with people in the area. Richard is the local EAA chapter president and a great organizer. I had mentioned to him that we'd love to get a tour of some of NASA's facilities. He really went all out and managed to connect us with astronaut Steven Nagel
Steve met us at the gate and gave us a tour of the training and research aircraft located there. First stop was where the T-38's were being serviced in the hanger. Of all aircraft out there these are still the sleekest and sexiest aircraft in the world. The public sees them following the Space Shuttle down on final approach to landing.


Some T-38's, Chrissi, Steve Nagel, Randi

Lines surely inspired by Sophia Loren

Builder Steve Robbins, Randi, Steve Nagel
The next hanger housed a couple of Gulfstream II jets.

These are large biz-type jets they have converted for Space Shuttle pilot landing training.
If you can imagine reentry from space as a glider, making it to your destination landing strip and greasing a landing with no power, no chance of a go around so you get one shot to get it right. Its not like you can check a Space Shuttle out for the afternoon to shoot some touch and go's to polish up your landings.
Steve explained how these Gulfstreams had been modified to fly the profile of a shuttle on final, scarey when you read about how they do it in these jets.

The left seat of the cockpit is a basic set of the controls and displays the shuttle pilot would be using, the fly-by-wire control stick and uniquely configured aircraft gives the dynamics, feel and responses of a shuttle but allows the right seat instructor pilot to push a button that quickly reconfigures the aircraft to normal to allow a pull out and go around just before touchdown. I'd always wondered how you could prepare for something you cannot fully simulate and here they have done it just right.

Randi at the controls, they've never seen her drive!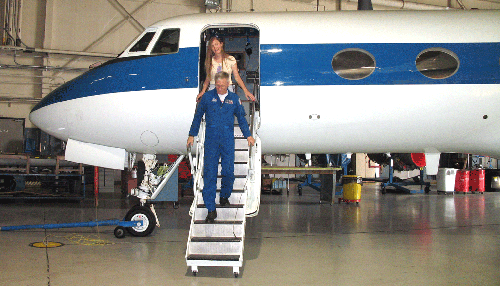 "awww please, just once around the patch?"
We then headed down the flight line past a whole gaggle (?) of T-38's
plus a huge aircraft shelter damaged by hurricane Ike. The hanger we went to housed some interesting aircraft.

First thing when we arrived at the hanger we met astronaut Frank Caldeiro who is also a Long-ez builder/flyer.

Astronauts Frank Caldeiro and Steve Nagel with Randi
Frank showed us the WB-57 High Altitude Research aircraft

For an interesting read, check this NASA page out.
The aircraft is a modified British bomber, the most notable modification was more than doubling the 960 square foot wing area to 2000 square feet.

Cozy Mk-IV builder Steve Robbins

Finally there is the Weightless Wonder VI, an aircraft with the
elegant nickname of "The Vomit Comit"

a name earned from the aircraft's mission to train crewmembers
and familiarize them with weightlessness.
If you think a little turbulence is uncomfortable, imagine this: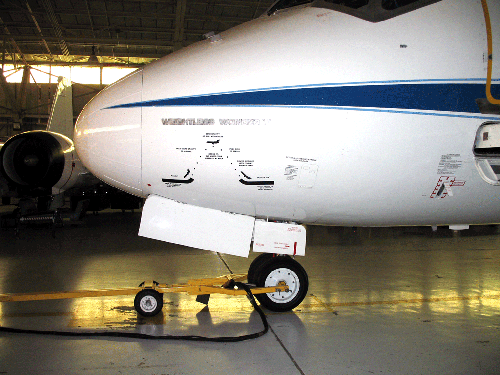 They have a competitor that was sitting on the ramp



This is a modified A300 Airbus from Zero-G
After this wonderful tour Steve Nagel, Frank Caldeiro,
Steve Robbins, Randi and I headed over to the general aviation
hangers to meet with some of the builders, see their projects
and put some faces with names of people we know online.
We finally meet up with Richard Sessions who really put things
together for us in Houston. We also finally meet Velocity builder
Chris Barber and get to check out his Mazda rotary powered
Velocity project. Chris was a blast. Next door was a nice Lancair
Legacy well under way and next door down was an all aluminum
P-51 Mustang.
We all headed out for a Tex-Mex restaurant and had a great dinner
then Randi and I had to say our goodbyes for the evening and join the
Friday evening commuters heading west so we could stay with
my brother and his wife. The tollways could put you in the poor house.
It was really nice to see my brother again and we made plans for
dinner the following evening.
Refreshed, we left my brothers house in the late morning for
Cozy Mk-IV builder's home, Mark and Carla Ewart. They live right on
Galveston Bay and were hit pretty hard with hurricane Ike.
They had nearly five feet of water pass through the first floor
of their home which fortunately was designed with a recreation room
downstairs so the water damage though bad was not into the main
living area. Mark and Carla have done a really good job with the main
components of their Mk-IV and are well on their way. Richard and his wife
Lisa were able to join us there and so did Steve Robbins so we all had
a gab fest.
All too soon we had to say our final good byes to the local canardians
and head back to my brother's home. It was good to kick back and have
a wonderful dinner with family we have not seen in some time.
After a good nights sleep we woke up to a very cold day and after
stopping for coffee and donuts we turned the compass around and hit
engage. Course plotted in on my trusty laptop we were in Dallas by noon
and home by ten PM. All totaled about 1900 miles and 30 hours on the road.
Many thanks to all those who were able to come together and join us.
It was the folks that made the trip so good.
Thank you for making the time for us, we really appreciate it.