Tools
It has been said you can work hard or you can work smart. With the right tools you can work better and faster.
I am sure it is quite possible to build this plane with a few hand tools and a $10 saber saw. But I bet I could pick that plane out on a flight line from the other side of the runway too.
Between the two of us we probably had more tools than Binford when we started this project but along with all these new skills comes a whole new opportunity to acquire more tools.
First and foremost, if you are just starting a Cozy project you will need everything in the "CozyGirrrl-Tools" composite tool kit from Wicks Aircraft. If you already have some of those tools, go through the list and get the rest of he kit, you will really need them.
The tools listed below we also consider "must haves", not included in the tool kit from Wicks Aircraft but they get a workout.
You could easily go to the poorhouse on tool purchases alone. Shop wisely. A well made Asian import can do the job well and last for years at half the price. A poorly made tool of any origin is a waste of money and dangerous to the user.
What we consider essential may be frivolous to others. I was one of those girls who took shop in HS...what the hell, it was where the boys were but I did learn something... power tools are the secret to doing a lot of things quickly and accurately. Before there were power tools there was real skill, but do you want to become a skilled craftsman or just get the job done really well and finish your plane? Besides, this is how you compensate for all the time you lose making modifications to the plans.
Needed Tools
-everything listed in your plans in Book 1, Chapter 3, Page 1.
Tools you are going to use almost daily
A real 14" band saw
Central Machinery, Taiwan
Harbor Freight
www.harborfreight.com
Speeds: 600, 1140, 1670, & 2670 FPM
Capacity: 6"|
Frame-to-blade: 14''
Overall dimensions: 24-1/2" x 19-1/2" x 65-1/2"
Table: 14" x 14"
Shipping weight: 191 lbs.
ITEM 32208-1VGA $319.99
We now have 3 band saws. One is a tabletop saw many people are inclined to buy. These are so underpowered that they stop frequently and have a very limited reach and depth of cut. MIne came from Sears. I broke the table casting on it. The other saw is an import metal cutoff band saw, good for cutting steel prior to machining or welding but not of much use on this project. And finally a 4 speed cast iron import from Harbor Freight pictured above. This saw is carried buy Grizzly Imports and others too but not all have the 4 speed model. You need to add the ball bearing guides from Harbor Freight shown next but you have to order them through the web.. When on the lower speeds you can do all of your aluminum cutting, and on slowest speed some light metal cutting. Otherwise you will do a lot of glass cutting and a lot of foam cutting as well as formica hot wire pattern cutting. Buy only metal cutting blades and keep one only for metal cutting. A couple of cuts into glass renders a blade useless for anything but glass and foam. This is a HD cast iron framed saw and is many times better than several domestic saws I have had the displeasure of using.
Set of four ball bearing blade guide blocks
(for the bandsaw above)
ITEM 46370-3VGA $12.99
Harbor Freight
www.harborfreight.com
Not available in store; must be ordered online.
While at Harbor Freight, pick up a 12" disk sander too.

Motor: 1 HP, 120V, 10 amps
No load speed: 1793 RPM
Wheel diameter: 12''
Base: 13'' x 10''
Shipping weight: 92 lbs.
ITEM 37297-3VGA $119.99 $89.99 when on sale
Order additional two-packs of sanding discs: 240 grit (item 37960), 120 grit (item 37959), 60 grit (item 37958), 36 grit (item 38001).
If you put it right next to your band saw you will use it to deburr, grind aluminum, trim and sand everything.

Other Helpful Tools
-contractors table saw (making jigs)
Stuff That You Don't Need, but is Fun To Have
- 9" x 20" Metal Lathe from Enco, Grizzly, Jet Tools, Harbor Freight etc. Get a set of carbide insert cutting tools. I am beginning to think a small metal lathe is almost essential for making small things, trimming spacers, making spacers and standoffs, trimming wing bolt bushings to length etc etc.
- 8" x 28" Mill Drill, use instead of a drill press, do light milling as well.
TIG Welder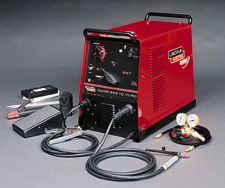 ... even if you don't weld or have any reason to weld, take the Lincoln Electric TIG welding seminar at OSH or Sun-n-fun and try your hand at TIG welding aluminum. The instructors are really great, some of the best welders in the country. Both Randi and I did and I was skeptical.
"NO, NO, NO, we are not going to buy a TIG welder unless these guys can prove to me that I can weld aluminum; I mean I have to actually do a really good job. (stacking failure on my side)
What do you know, they were ready to deliver the day we got back from the show And it really does work, or how to say it better, yes, they proved to me that with a minimum of training I can do this
Please browse our site by clicking on menu items at the left, if you have any questions, please contact Contact us: CozyGirrrl@aol.com
"This is an arts and crafts thing"
Note: In order to help out builders we have worked with Wicks Aircraft supply to put together a kit of tools we used every day or consider so essential to composite aircraft building we (and several other builders) feel we cannot do without them. Wicks has enthusiastically supported us in this effort. While it may be possible to shop the net and get a better price here and there, realize you will more than make up for the savings in additional shipping and handling charges. Wicks supports it's builders; they ask us what we think they should carry, then they stock it, please support your suppliers!
Prices were accurate as of 2 January 2002. Information was provided purely for informational purposes only. Images were copied from vendors web pages.