What a long strange trip it's been...
Finally home again; 2677 miles round trip to Cape Cod and back.
I used to live there and when I lived anywhere else in the world my cousin's cottage was always our summer home in the USA. This trip was no different, the cottage was available to Randi and I and one of my cousins was also in town to to stay with us. We managed to get together with several of my old friends and have a great time. Its always refreshing to walk on the beaches of my youth, the feel of the beach under my bare feet, though not the thickly calloused bare feet of my youth =), the smell of the bogs, I had to convince Randi the smell at low tide was from the bogs, not raw sewage !
We made several stops going to and from.
-First stop was in Berea, Ohio, just a mile or so off the interstate is a brewpub called Cornerstone Brewing Company, we were driving so unfortunately we could not sample their wonderful wares but I was stopping there so that Randi could experience their wonderful pub food, probably too upscale for "pub food" but awesomely good!
-Second stop was Niagara Falls,
We arrived at 2AM so a walk to the falls had to wait until morning. We found a Howard Johnson's motor lodge within walking distance of the falls; even with the curtains closed we could hear the distant thunder of the falls. We awoke at 6AM to the alarm, shook off the sleepies, had a quick continental breakfast and walked across the bridge to the Canadian end. Randi was so sensitive to my fear of heights that she only laughed a little bit that I was hugging the roadside guardrail on the far side of the sidewalk as we crossed the bridge. In the middle we paused for pictures and at the Canadian end of the bridge more pictures,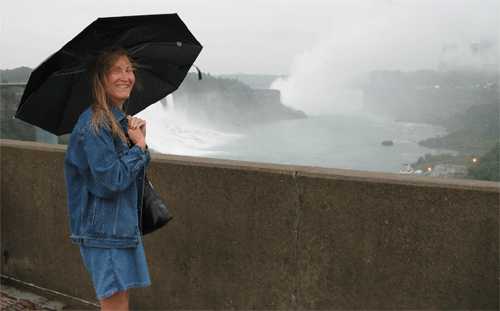 Notice the crumbling concrete under the deathgrip I have on the wall as a try to look composed.
Because of our schedule and the rain we returned to the USA side. We breezed through Checkpoint Charlie because we both brought our passports, it was uneventful. We then walked to the American Falls and took more pictures and hit the road for Cape Cod.
-Next stop was along the Erie Canal in Fultonville, NY for a real calzone.
Randi had never experienced one of these monsters- YUM! Only in upper NY state.
-Finally onward to Cape Cod, old home week etc.
While visiting the grave of my aunt we had to look at some of the older headstones in this tiny cemetery. First thing to note, real Cape Codders are either Nickersons or Eldridges. Typical headstones read "1817, Jebbadias Nickerson, 29 yrs, 4 months, 3 days; died at sea". I remember kids getting out of school to help their dads during scallop season or cranberry harvest.
-I think I am in a food rut on the Cape; lobster, clams, subs and the long trek up to P-town (Provincetown) to the Portuguese bakery to get a selection of my favorites (I lived in Portugal). We discovered a new treat at the Chatham airport. The Cloud 9 cafe is tiny, limited seating and worth the wait no matter what. All home made fresh goods. For breakfast I had two of the best crab cakes I have ever had in my entire life as the base of Crab Cakes Benedict.... it was truly a food-gasm. Randi ordered their Cinnamon French Toast ...the two huge slices looked like half a loaf of bread, I am sure it could have fed a family of four in a third world country for a week.
-If you get up to CQX, Chatham, you have to check out the FBO and say hi to Lonnie Pickett, the airport manager, he is quite an artist, I mean seriously he does really high quality paintings of aircraft, mostly military.
-Time came to close up the cottage, say our good-byes and head home after one last circle of the end of the lane to see the beach.."Bye Bye old home.." good summers were measured by wearing out the butt of a pair of cutoffs on the nonskid deck of a Sunfish, how blond my hair got, how long my tan lasted into the fall... hearts broken saying goodbye to summer loves.
-On the road again! A few hours down the road in Niantic, Connecticut is John Slade and Chad Robinson. We dropped in for a surprise visit. Great to see them both, Chad's project is coming along nicely.
-Back on the road heading south to NY, NJ. Was hoping to have dinner with an old friend but her business got in the way, so divert around the hectic metro area. Just before leaving NJ for PA we pulled over in Wayne NJ to eat (NJ calzones are dreadful) and hit the supermarket for a local treat to bring home; Taylor Pork Roll. I can't even begin to describe this stuff. It comes preserved in a canvas cover like some kind of salami/baloney roll, you slice it off and fry it up in a pan for sandwiches or my favorite; breakfast sandwiches. They will ship it anywhere for $$$. I bought half a loaf =) into the cooler.
-Off west through NJ to the Delaware Water Gap into PA. I held up till about 10PM and we pulled into a rest area, crawled into the back of the minivan to the waiting futon and sleeping bags and got 8 hrs of sleep.
-On the road at 6AM, drivethrough breakfast, home by 2PM, Great to be home!