Chapter 21d1
Fuel System
Port & Starboard Strake Sumps
The plans strake sump blisters are there in event of an extended slightly nose down level descent to prevent fuel starvation because if low on fuel the remaining fuel would all be in the leading edge of the strakes.
Although we have a main center sump with greater capacity than the plans side sumps, we retained the side sumps as a convenient way to provide a low point for the strakes, a good place to install threaded fuel fittings and a little extra capacity. The plans strake sumps are convex, one would assume for increased capacity, not needing the capacity and wanting a cleaner and hopefully lower drag profile we made them with a large concave radius. They measure about large stewpot lid radius (5-6"?) by 12" long.
In preparation for the sump blisters an aluminum bung was cut, drilled and threaded with a tapered thread, floxed and glassed in place.
Next a foam mold form was hot wired and sanded to fit each side. In the picture below the surface of the strake and fuselage has been covered with 6 mil poly sheet, the foam mold form has been 5 minute micro'd in place and faired in with more 5 minute micro.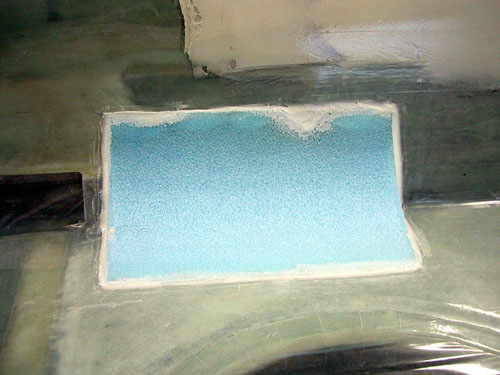 We have found that in the case of in-situ LoVac molding that the existing glass lay-ups can be porous to the point of disabling the process. The 6 mil poly sheet provides a seal as well as a release from the fuselage.
Next 2 layers of BID were LoVac'd in place.
Which produced this part shown below:
We carefully marked where the sump flange mating surfaces were.
The sump areas were then coated with a mixture of MGS 335 resin mixed with cabosil and squeegeed hard into the surface.
Excess was squeegeed off and peel ply was applied to the flange mating surfaces.
Jefco chemical resistant epoxy coating was then applied to the wetted areas of the sumps and fuselage:
And finally the sump blisters were bonded in place with a mixture of MGS335 and cabosil, then glassed over with a single ply BID tape around the edges.