Status
This is where we are at the moment....
August 17, 2008
Wings are filled, ailerons and rudders hung, 3-5 coats of raw epoxy on wings.
Put the main gear back on and although rubber has never touched the floor, the plane is sitting on three car dollies and this is the first ever time the fuslage has ever been supported by its own gear.
The Harbor Freight car dollies make moving the plane a breeze, sidways? No Problem! With fixed main gear you may want to work out a way to clamp a steel tube between the two main dollies to arrest the gear spreading.
Hung starboard wing (that's the right wing for you lubbers) for blending with strake. Mismatch was minimal due to installing non-plans end rib.
Hung engine mount for the first time to look at possible cowling profiles. We have been nervous about this because we shot ourselves in the foot way back when we relofted the turtleback. We raised the front of the turtleback 1.5" but not the back, this increases the sloping angle towards the spinner and leaves you less room for "a pleasing curve" down to the spinner, it flattens out the line quite a bit limiting your profile choices. Fortunately it will not go negative on us giving that "brokeback cowling look"...not that we mind.
May 26, 2008
And now, after a two year delay, on with the show!
Finally we are back to serious building. Getting the parts business up and running caused the two year delay but was well worth the effort.
The rudders and ailerons are complete, the ailerons balance after filling and sanding, now to hang the rudders and ailerons on the wings.
December 31, 05 Winglets done. Not a lot of our project underway at this moment due to generating Cozy metal parts to fill in for Brock's demise.
Two views of our version of the rudders and winglets. The lower winglets are approximately 50% size. There is a trailing edge fillet from the wing trailing edge to the trailing edge of the rudder and then intersection fillets from both sides of the wing to the winglet upper and lower surfaces.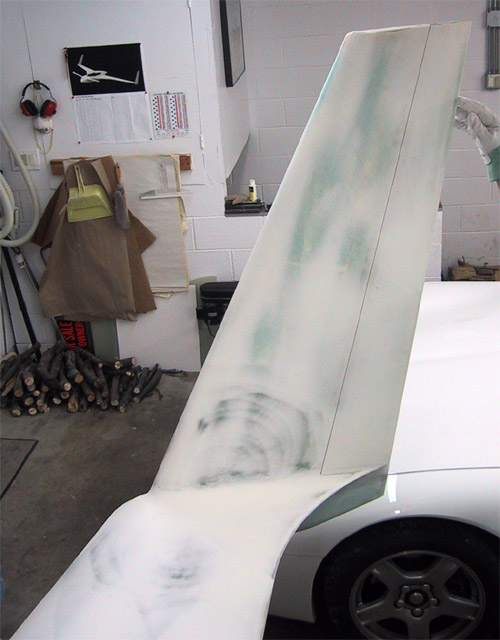 November 6, 05 Upper winglets attached, hidden rudder horns installed, lower winglets attached.
October 31,05 Happy Halloween!
Productive weekend, we attached both winglets to the wings, hidden bellhorns next.
October 18, 05 like the new website look?
Time for new teasers:
October 15, 05
Osh came and went, then Rough River... time flys! I wish we did =(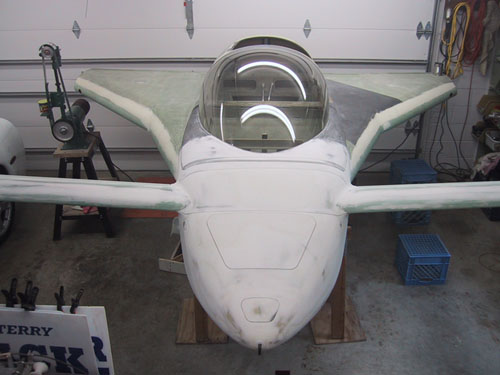 Still working on the interior. We made some sub-panels for the sides of the main panel, they will have modules set in them for other electronic controls.
The armrests are finally glassed in and the center console is in as well.
We had to put in the center console to finish our canopy release which releases from the side under the strake or from the center console, confused? We hope so =)
June 18, 05
A quick picture update, details later...
Randi, "The Mud Queen" I just had to convince her it was just like finishing drywall and off she goes with the micro...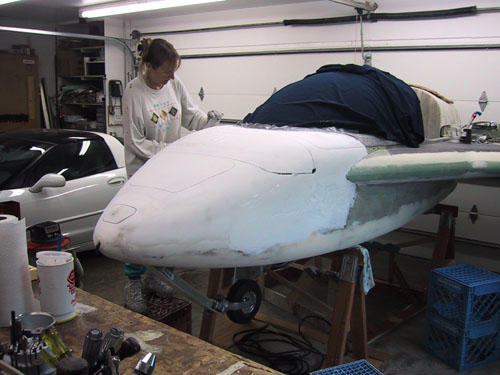 One last time before the filling and finishing begins....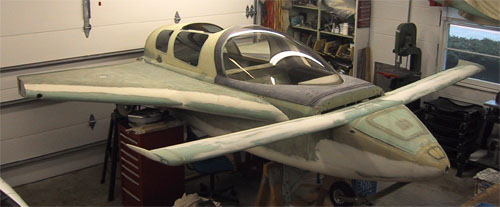 Pitot Envy....
OK this is what goes in the 2" hole in the nose of our version of the Cozy. After much digging around we could not find a 12V straight heated pitot probe, so you guessed it, Chrissi went off to her shop to practice alchemy again...they are going to burn her at the stake if she doesn't manage to short circuit herself some day. Anyway this is a couple of hours of machining later...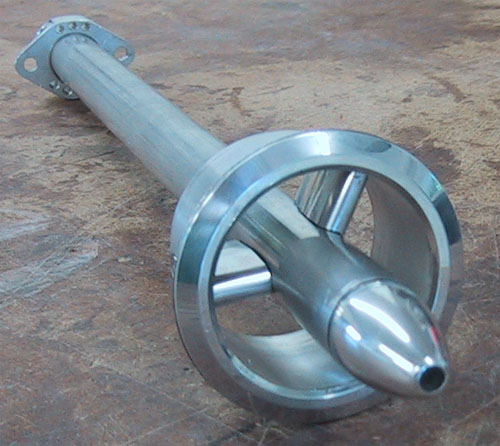 We've been busy with the defroster installation in the glare shield...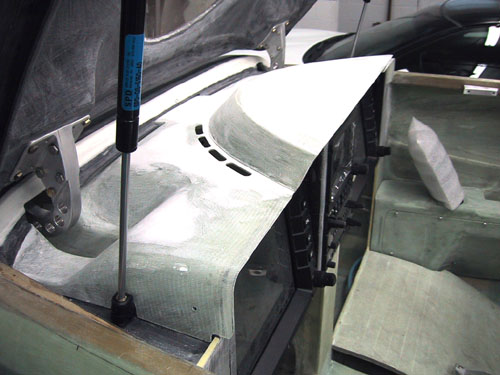 Please don't anybody come out with any new toys, there is NO more room in the panel!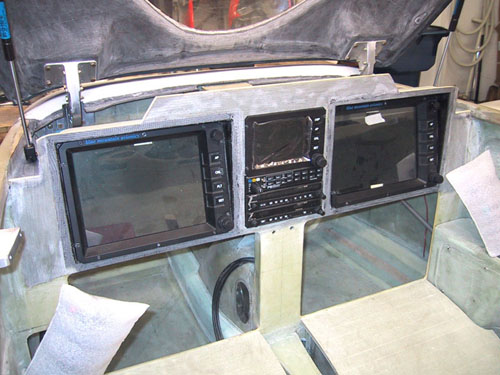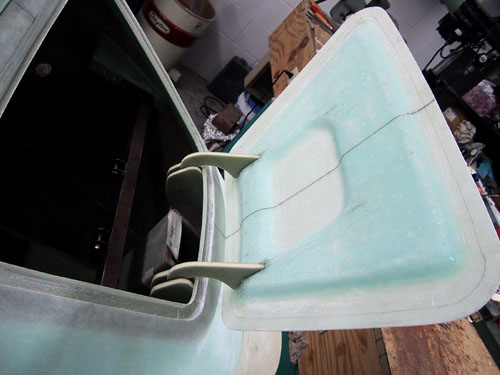 February 25, 05 Oh, and we love this front compartment!

We did the channel for the seal and drip rail, as well as the inside of the lid with our new LoVac technique. The C-hinges were a snap to figure out in AutoCAD.

February 25, 05 then we filled it with goodies

February 25, 05
25 February, 05 Big stuff done, now the details details
Like I promised; a more frequent update =) ..ok I was pressured into it.
Before I forget, Rough River Fly-IN was so good last Fall too. It just gets bigger and better every year.
No plans for $un-N-Fun this year. See you at Osh of course.
The big deal has been closing up the nose section, we have purposely not glassed on the top of the nose until the space is fully populated. Everythng does actually manage to go in and out through that door.
Normally it is almost empty but we have a hydraulic pump, two aluminum heater cores and heat distribution system. There is ram air for heat and ventilation coming through the nose between the NG-30's, the uprights that create a box act as an air/water separator, the air is controlled by a butterfly valve, the scat hose is from a blower that recirculates cabin air. If recirculation is chosen the ram air butterfly closes 100% and the recirculation butterfly opens 100%, recirculation air is controlled by blower speed. Heating and ventilation is controlled by Basic Stamp II microcontroller.

See what the big deal is in Chapter 21; Strakes & Fuel

On with the UPDATES:
04 September, 04 I have got to try to update on a regular basis
Oshkosh was great, no it was awesome. So many people, new faces, old friends and faces. Its truly all of you people that make is so cool to go there. To top it off, Mark had a wonderful get together and BBQ lunch across the airport for all the Cozy builders then that evening another get together at the Cozy Dinner that Marc Zeitlin and Wayne Hicks talked us into going to for the first time.
Oh yes the planes and toys are neat but I think if there was a place to go and just meet you guys and see your planes we'd like that even more..oh yeah, see you at Rough River!
It was fun this summer playing the "guess when Marc Zeitlin might show up" game which was followed by the "lets panic and call everybody for the BBQ" show. I lost the game and had the BBQ a couple of days ahead of Marc's arrival and then when he did arrive the beer was still cold and we told him about how good the BBQ was. Then we spent the next day fixing his impulse magneto... I think I can safely say I now know how to install and time one and will never have one to worry about. Got Marc out of here so we could get on with our strakes and finish them just before leaving for osh.
Our final toy and acquisition for the panel was a PS Engineering 7000B audio panel. The new BMA EFIS Sport was everything we ever wanted in a backup so we traded in the EFIS Lite.
Check out the section added to Chapter 3, Education, on the low cost, low vacuum technique. Several people got all stirred up about it and went home and tried it, raved and have asked that we publish information about how we do this.
03 April, 04 Dang, why didn't somebody tell me its been so long?
Actually I have had several people e-mail me to ask if we were still building. I also had come to the realization that participation on the canard related forums was time consuming, counter productive (for us) and there were a few really closed minded individuals... well you get the idea. The capper was when one authoritative individual suggested we abandon our project and buy a plane he knew was a death trap. And people wonder why we have issues? So I behaved myself and stayed off the forums for almost a year before I realized I was doing just what the aforementioned individuals had hoped I would do. So... I'm back.
Yes, even with it being a very tough year on the home front (I lost my Mom), we did manage to get quite a lot done. I spent about 3 months in Houston as night hospice nurse, then another two weeks on the east coast for memorial services. Bad time of the year to be on the roads.
What have we been doing all this time?
Besides going to Rough River, Sun-N-Fun, Oshkosh, and another Rough River...
-The strakes are nearly done
-The main retracts are mostly installed.
-We have our avionics (UPSAT) and instruments (BMA EFIS)
-We finished that canard.
-We built the turtleback (have not installed the canopy Todd Silver made us yet)
-The interior parts are all done.
-The fuselage controls are done; Infinity grips and spherical bearings, ball bearings everywhere else.
-The speed brake is done.
-The nose gear and doors are done.
-The concentric axis adjustable hanging rudder/brake pedals are done.
-The bottom is done.
-I welded up our custom tuned length intake manifold.
-Oh yes, we also put a new roof on the barn =)
So whats the coolest things going on?
1- Burt will probably win the X-prize by Osh this year (would not surprise me if he landed there)
2- Steve Wright has flown his incredible Stagger Ez and hopefully will get it down to Sun-N-Fun to win Grand Champion .. deservedly so if there were ever a plane, I hope he does at Osh as well.
3- John Slade has finished his Cozy and it is now airworthy (at least on his side, we're not so sure about Char's side) =)
4- I got a great quote on my car insurance from Geico!
01 April, 04 Fooled ya! thought I was going to do an update huh?
08 Nov 02 wow!! Almost a year has gone by with that canard still sitting on the bench in it's jig. Glad you asked, yes we have been busy like crazy.
-Currently building the tools and fixtures to build propellers.

-Greg Richter of Blue Mountain Avionics took me up on an offer I made him at Osh 2001, actually I decided there and then I wanted his product but in my own words "Damn Mr. Richter, that's pretty ugly", yah I have such a delicate way of putting things. Greg's not one to be easily offended and if I had not been a girl he'd of told me where I could... well never mind. I sent him some samples of my work and he turned me loose first on the display and then on the CPU enclosure. The telecommuting and visits to the office were interesting. Somewhere at the end of the Deliverance Trail is a hanger with their name on it. I swore if I heard a banjo I was outa there! The big debut of the redesigned system was at Osh 2002 and it was such a blast showing the product and seeing people's reactions.

-Around the same time I started working for Blue Mountain we decided it was time to finally gut and remodel the bathroom. Not a facelift ... but down to studs, rafters and floor joists. For the price of an IFR panel we have a bathroom somewhere between the Evana Trump and Tim Allen. The hard part about being a geekette is knowing when you have gone too far. Randi just tells me "Chrissi, I want the best" Just glad this is a tiny house.
vaulted ceiling

electric skylight (w/remote)

29" deep heated jacuzzi

heated tile floor

a Japanese toilet I call Cartman

garden window

4 channel stereo with sub connected to household server for MP3's

flat screen monitor for DVD's and TV

corner shower with 1/2" architectural glass, seating, 6 body sprays and 10" shower head. You could shoot scenes from the Titanic in there!
...so yes, we've been sort of busy and distracted.