There's More to "Experimental Aviation" than choosing interior fabrics and accent stripe colors.
Use scroll bar at right for more content below -------------->
---
Cozy Girrrl Strakes part 1
Cozy Girrrl Strakes part 2
Ed Savage kindly did a video of Randi's strake building presentation in the pilot's lounge at RR 2014
For the detailed pics she showed from her book, please see Ed's photo page
---
AVAILABLE NOW


Machined billet CG-NG-6A
with tapered roller bearings,
includes NG-5 plate and all
hardware.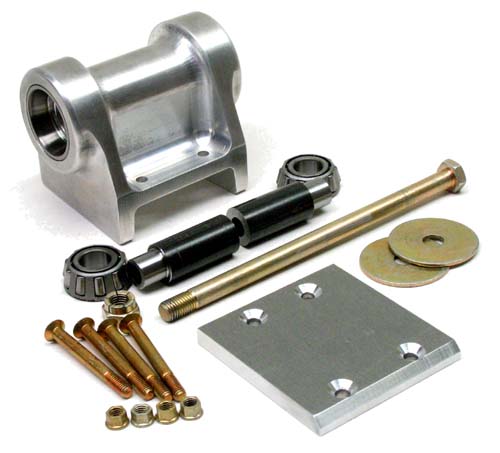 Limited numbers available.
This is a premium part for
discerning builders.

We've been busy working on the latest version of our engine
We call this 13B-X
This is a 13B REW turbo motor, Turbonetics T0-4E turbo, dual underdrive
alternators, Renesis water pump, 321 SSTL headers
Underslung centerline turbo, duckbill exhaust nozzel into a boattail eductor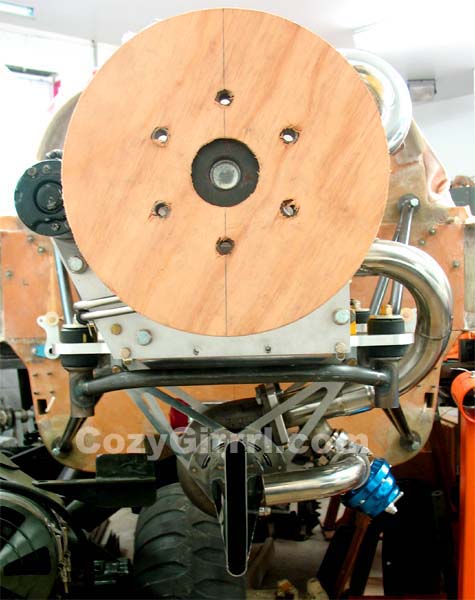 Dual 65A alternator mount with multivee type belts, redrive return lines to
lower rotor housing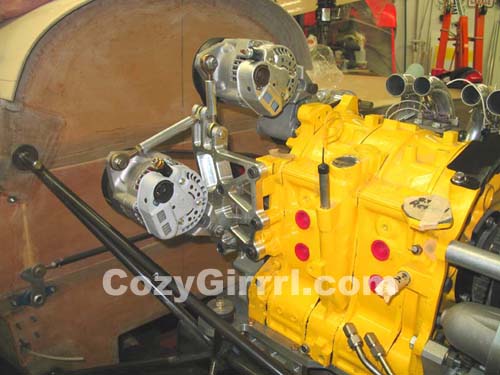 Renesis water pump cartridge on a 13B, custom water I/O manifold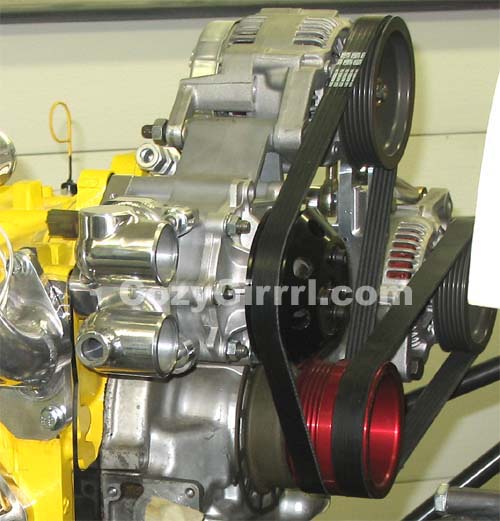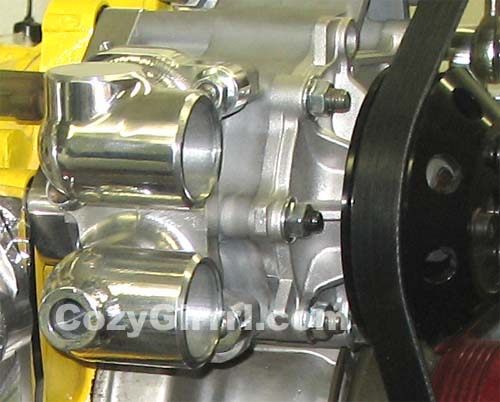 Water I/O manifold can be ported for pressure cap or screw on fill cap,
lower NPT port is for water return from turbo

NEW PARTS
in stock now!
NG-53
Worm Replacement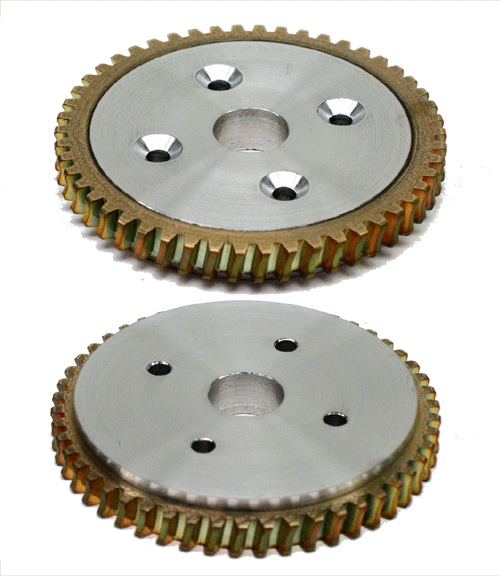 The manual VENGR iron worm gear has had a tendency to strip off half of it's teeth, builders would then rotate the worm 180 deg and hope it did not do it again. This part has not been available for a long time because the original manufacturer now only offers the gear in a lightened webbed out version with a thin hub and spokes. The only solution has been to fill the gear hub with flox, machine it flat and drill mounting holes in it. This was more of a fix than a solution.
It was determined that a bronze version of this gear was available which would be less brittle and less prone to shearing off the teeth. The hubs were machined out and an aluminum hub was machined. The sizing is such that there is a large interference fit and the heated ring gear is shrunk onto the frozen hubs creating a strong assembly.

Oil MiserTM
Engine oil breather / separator. Tests and reviews are showing this exciting product for Lycoming engines is doing a near perfect job of separating oil from breather gasses and returning it to the oil sump rather than the cowl and prop.
NEW PARTS
Baggage Pod
mounting inserts
If you are going to install Gary Hunter's baggage pods, you will need to install threaded inserts per the instructions. These 3/8" dia x 1" long AN-3 inserts are not limited to mounting pods though, anywhere you have need for an AN-3 internal thread hardpoint these can be used as-is, shortened or partially buried in foam as a threaded standoff.

Whats in your center console?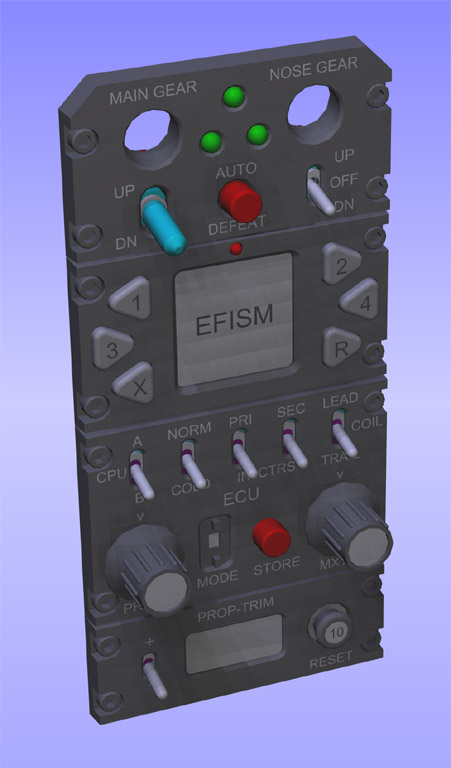 Just a teaser of things to come, subpanels are 3" wide,
shown about actual size on some monitors
EFISM (Electronic Fuel Injection Monitor)
is already available through
Anderson Electronic Enterprises
http://www.andersonee.com
Coming Soon:
-EMag/PMag Monitor & Control Subpanel
-Gear Control Subpanel
-RWS ECU control subpanel
-IVO Prop control Subpanel
Now for something completely different...


It's a master pattern for a rubber keypad
going in a new avionics product.

Long-ez Builders
NEW PARTS
Main Gear Attach Brackets
(click on picture for more information, right set shown)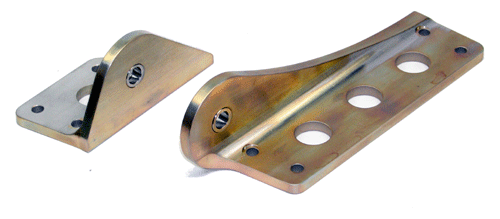 On The Road A'gin...
Road Trip to Houston to pick up our new heat treat furnace, visit builders and see some really cool aircraft at NASA

Rough River 2008
Video by Don Jones
$25 for 2 disk set when included in parts order
or $28 solo continental USA
Don's done a great job with high end video and still cameras to capture the flavor of our annual pilgrimage to Falls of The Rough, Kentucky. He captured the arrivals, departures and fly by's, bbq, the fine Canardians, so many aircraft. DVD video disk with bonus CD-ROM disk of 562 hi-res still shots if you aren't in one of them, you were not there! Stills have lots of the details you missed or if you did not have your camera with you Don got them for you.
For Sale!
The cast iron HKS turbo exhaust manifold, uses external wastegate style T04 turbo.
zoom zoom zoom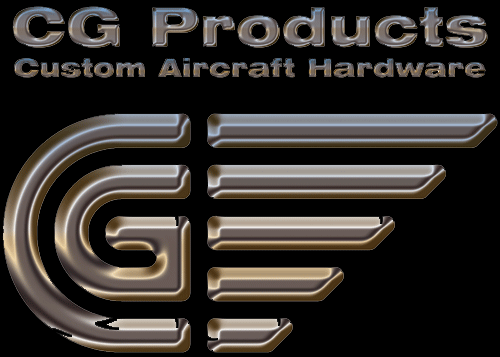 August 17 08
We be working it....
May 26, 2008
And now, after a two year delay, on with the show!
Finally we are back to serious building. Getting the parts business up and running caused the two year delay but was well worth the effort.
The rudders and ailerons are complete, the ailerons balance after filling and sanding, now to hang the rudders and ailerons on the wings.
Announcing...
Oil MiserTM
Engine oil breather / separator. Preliminary tests are showing this exciting product for Lycoming engines is doing a near perfect job of separating oil from breather gasses and returning it to the oil sump rather than the cowl and prop.
Cozy Mk-IV 540 Engine Mounts
"Was that four or was that six cylinders?..."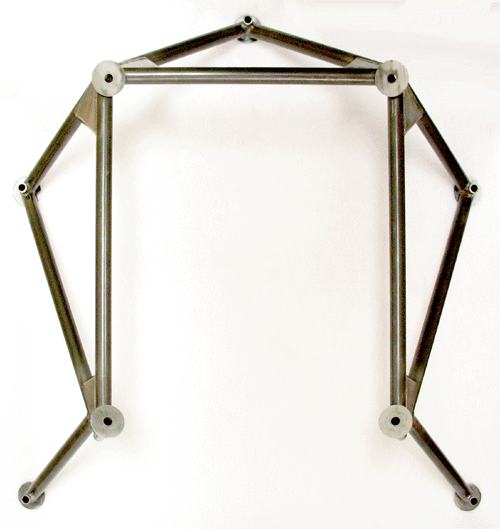 Control System Bearings
Sealed Ball Bearings In An Anodized Housing,
EZ to install / EZ to retrofit
Sealed Ball Bearings swaged into an anodized machined housing,
(for your control stick tubes)
Includes mounting hardware. EZ to install / EZ to retrofit
Berkut Style
Forward Compartment Hinges
(see parts web page for details)
MAZDA 13B / RENESIS
Cozy Mk-IV Engine Mount
(this one is for our plane)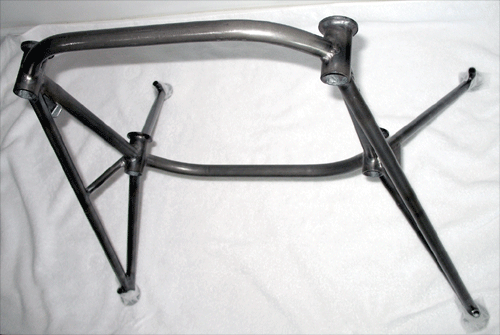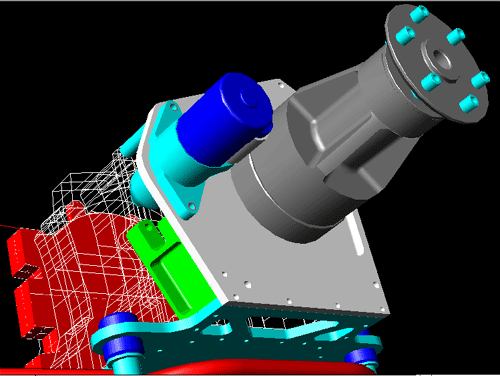 13B starter "cold side" mounting detail showing bed mounting plate tie-in and spacer block.
Cozy Mk-IV HD
Engine Mounts for 200 HP FI Lycoming Engines
(see parts web page for details)
Cozy III HD
Engine Mount for 0-320, long or short version
(see parts web page for details)
Heavy Duty
Long-EZ Dynafocal Type 1
Engine Mounts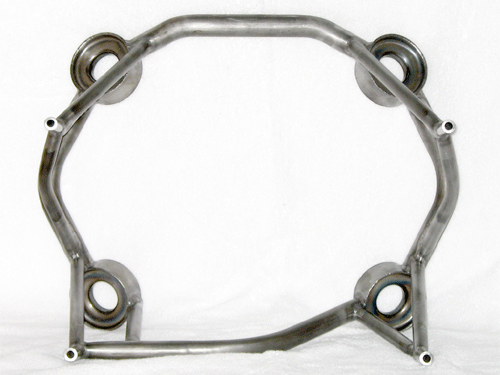 SHARK ATTACK !
Click below for a sneak peek at
Gerdes Nosewheels are back!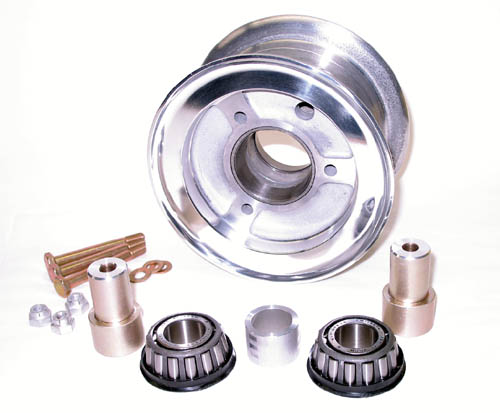 Our nosewheel, P/N CG-NWA is CNC turned, polished and includes a custom internal spacer to prevent the bushings from rotating on the axle bolt. See menu item at the left for details on Gerdes and Matco nosewheels.

The Gerdes nosewheel looks like it was cast in someones kitty litter box. We don't know about you but after how many years of building a fine aeroplane, are you really going to put that thing on your pride and joy?
Email us about truing and polishing yours.

Some day we are going to get back to this thing.....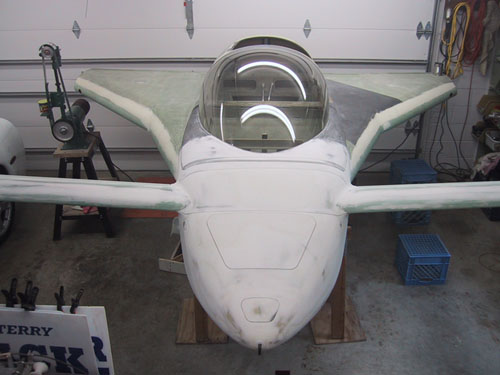 Flown any Young Eagles lately?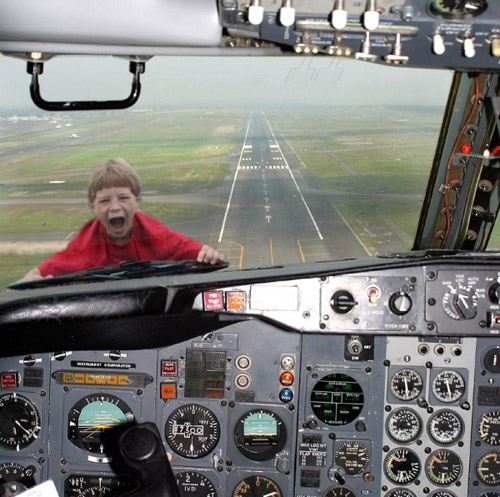 =======================================================
Oh No! I made it just like the drawing...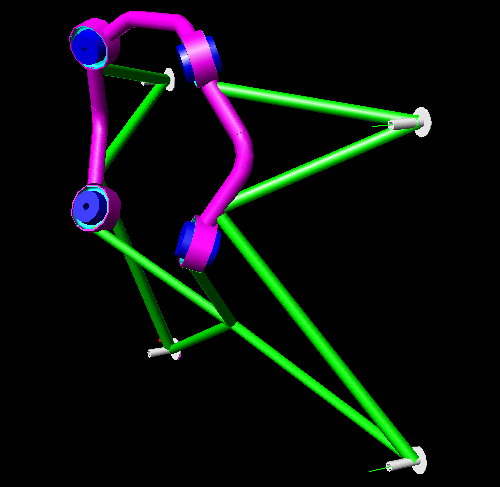 Also available is the "H-Brace" version for fuel injected engines
The Cozy Girrrls have taken a new turn....
Chrissi is back at it again with the web site. Lets just say she has a love / hate relationship with HTML and her computer(s) in general.
Forgive the mess but we are doing some web site remodeling.
All the old stuff is still on here, hopefully it will be easier to find.
It will also be much easier for us to add to and make changes.